Residential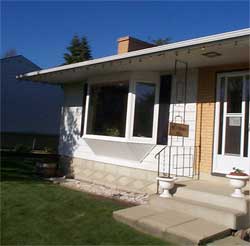 At Village Glass & Mirror Ltd. we know you want the best products and
the best value. that's why we offer a wide variety of doors and windows,
paired with our experienced installation techniques, to give you all we can.
All of the Durabuilt products we install are backed by warranty*.
*if you are visiting us using Internet Explorer you may need to allow blocked
content to utilize certain aspects of the site. You can do this by right clicking
the drop down warning and selecting "Allow Content".*
Windows
Rest assured that with Village Glass you'll recieve the best innovative
customised solutions and installation quality for your renovation project.
Whatever the weather may bring cold and condensation are a thing of the
past. We install Durabuilt windows that will keep the cold at bay and
improve the energy efficiency of your home. Different sizes and shapes
of windows are not a problem. We can custom cut glass to suit your needs.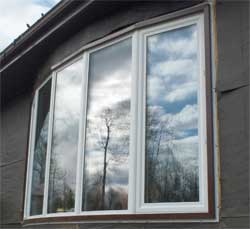 Village Glass & Mirror can take on a wide
variety of window installation projects such as:
Bay Windows
Bow Windows
Sliders
Casements
Awnings
and Architectral Shapes

We can install an exstensive range of window shapes, from traditional to
contemporary styles. Choose from high quality innovative product lines
consisting of PVC, wood, and aluminum windows that are CSA certified
and energy star rated. With Options such as obscure glass and grilles we
can be sure that your design will match the style of your home. Village
Glass also instals windows with internal shades also known as mini blinds.
A wide variety of Durabuilt products we install can be found at www.durabuiltwindows.com.
Doors

Front Entryways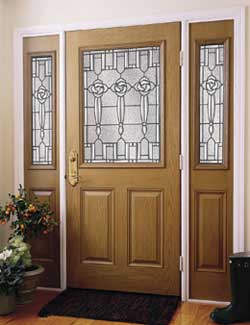 Your home's entrance is a sign of its quality and value, an enhanced
entry system positivaly influences the selling price of a home by creating
eye-catching appeal that attracts buyers. One recent study asked 2,400
consumers to estimate home prices based on exterior apperance and
found that an enhanced entryway can add as much as $24,000 to the
percieved value. This translated into five times the cost of the entry
system and more than six percant of the actual selling price.
Now that's a return on investment!
By partnering with Durabuilt Windows & Doors we can offer an exstensive
variety of entryway options. With many different door configurations and
materials you can feel confidant that Village Glass & Mirror can install
you that perfect entryway.
Some of the Configurations we install:

Singles and Singles with Sidelights
Doubles and Doubles with Sidelights
Singles with Transforms
Singles with Sidelights and Transforms

You can add a crank out system to any left, right, or double sidelight configuration for efficient, natural airflow.
Front enteries with decorative doorlites not only personalise your home, they add tangible value and curb appeal.
Decorative glass captures light and transforms it into brilliance - creating an inviting entrance and a lasting first
impression. Village Glass & Mirror install many Durabuilt decorative glass options. All decorative glass comes with
a Ten Year Limited Warranty*. To see all available options for decorative glass please....click here....
Patio and Garden Doors
Whether you're building new or replacing an outdated patio entrance,
Village Glass & Mirror can install garden doors that add character and
sophistication to any home. Garden door systems feature an operational
door plus an outward venting door with screen, making it a poular multi-
functional choice. Venting doors open just like a casement window for
easy, efficient airflow. Door glass options include color matched grilles to
co-ordinate with your front entryways or maitnence free internal shades
and blinds.
You may decide you want to enhance your doorway or windows with
obscure glass, once selected Village Glass & Mirror can custom cut to
fit any window or door in your home. Our qualified installers will provide
you with fast and hassle free service so you can quickly get to enjoying
your new window or door.
Village Glass & Mirror can also replace certian parts in excisting patio
and garden doors. We can do screen repair and replacement as well.
Not to metion that we can custom build you a screen to fit your needs.
*visit www.durabuilt.com for full maintenance and warranty information