Custom Showers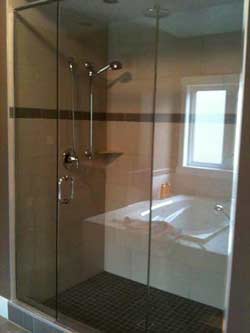 At Village Glass & Mirror LTD. we are always looking for ways to keep
our valued customers happy. With our ability to offer you elegant custom
made glass showers we hope to do just that. Our skilled installers are
sure to give you your gorgeous custom made glass shower in no time
at all.

We are currently offering the much saught after Showergaurd glass,
which is the first and only glass with built-in protection against corrosion
and discoloration. With just a minimal amount of cleaning using ordinary
household products; Showergaurd glass will look beautiful for years
to come. Call us for an estimate or consultation today and be on your
way to having the shower you've always dreamed of.




Custom Glass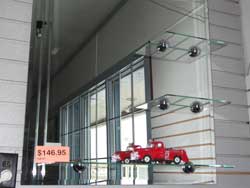 Village Glass & Mirror LTD. can do it all if you need glass custom cut we are
your company. We do a broad range of glass projects done in both plate
and tempered glass of varing thicknesses.
The thicknesses available are:
2mm
3mm
4.5mm
5.0mm
6.0mm
10mm
12.0mm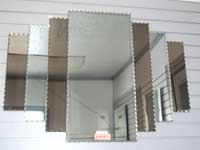 We can customise to fit any coffee table, kitchen table, or patio table. We do
glass shelves and glass shelving units custom sized for every room in your home.
Village Glass & Mirror can custom cut glass for china cabinet doors and we also take
on fireplace glass replacement. Broken fridge shelves? no problem, we can measure
and cut to fit and get the job done quickly and efficiently.
Custom mirrors can add a touch of elegance or that special personal touch to any
room in your home. Using our expiriance in glass cutting and sandblasting we can
custom create anything you can imagine for the one of a kind mirror you've always
dreamed of.
Village Glass & Mirror can replace certian parts in excisting patio and garden doors.
We can do custom screen repair and replacement as well. By coupling with All Glass
Parts Window & Door Hardware we are able to supply you with a variety of options
when it comes to the hardware aspect of your doors and windows.
If you wish to visit the All Glass Parts website for more information ..... click here.....