Commercial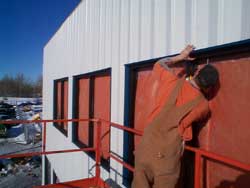 At Village Glass & Mirror we have confidance in our ability to provide
you with all of your commercial door and window installation needs. By
providing quality products coupled with our fast and efficient techniques
you can be sure to enjoy your newly installed or repaired windows, doors,
or custom cut glass for years to come.
Village Glass & Mirror Ltd. offers a wide variety of options for installing
new doors and windows or repairing existing ones. Whatever your needs
be it double entry commercial doors, door locks, door cyliders, or door
closers, Village Glass is there for you. If it's added security and saftey that
is needed we install and custom cut saftey glass to any size to suit your needs.